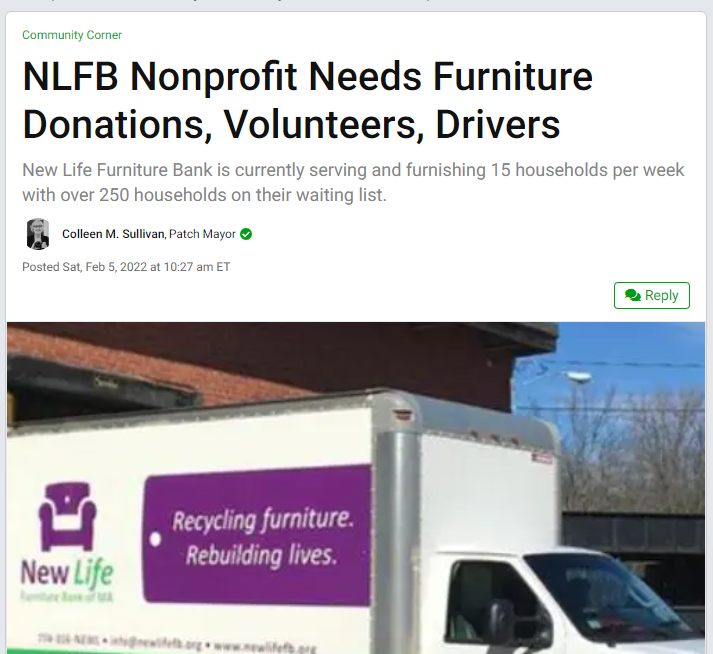 Did you catch our feature on Walpole Patch, Medfield Insider, Hometown Weekly, and other media outlets today? 
New Life Furniture Bank of MA in Walpole is a nonprofit organization that provides gently used furniture and household goods to individuals and families transitioning out of homelessness at no cost to them. Veterans, domestic abuse survivors, refugees, and others in need of a new start have the opportunity to select items ranging from towels to a couch to provide stability and comfort in their new home. 
New Life is currently serving and furnishing 15 households per week with over 250 households on their waiting list. The primary barrier to serving more clients is having enough inventory, specifically small dining tables, dressers, and all types of cookware. Donations can be dropped off on most Saturdays without appointment between 9:30 and 11:30 a.m. If interested in having items picked up by New Life, please submit a request on the New Life website, but please keep in mind, there is usually a three week lead time. For a full list of what New Life accepts, how to donate, and alternative ways you can give furniture and household goods, please visit newlifefb.org/give-furniture.
As a volunteer-led organization, each year over 550 community members give of their time to New Life, however they are always in need of more volunteers, particularly on weekdays to process donations and gather client orders. In-person opportunities are open to individuals and groups (ages 12 and up) and range from sorting household items to gathering clients' furniture selections. There are remote opportunities for youth volunteers as well. While the greatest need is for volunteers that are comfortable moving furniture as a team with the aid of equipment, there are plenty of opportunities for those unable to move furniture. Please visit newlifefb.org/volunteer to learn more.
New Life is looking to expand their team by hiring two full-time drivers. Applicants should be able to pass a DOT physical and be able to move furniture. The positions offer a competitive salary, benefits, and the opportunity to give back to the community everyday. Learn more at newlifefb.org/about/employment.