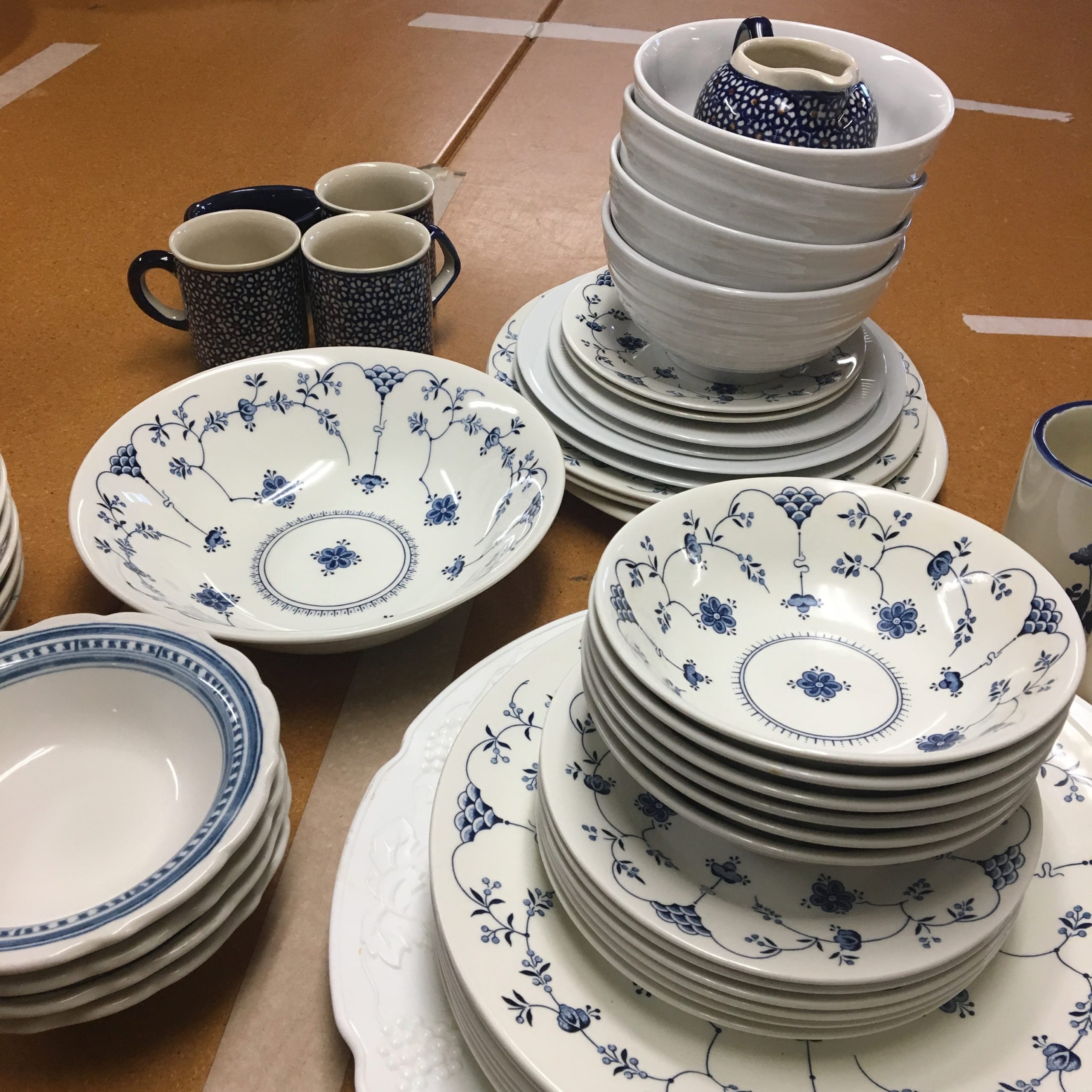 What We Accept
Updated March 2021
---
Click on the categories below to see the list of items we can and cannot accept.
If on a mobile device, scroll past the categories to see the list for the category you selected.
People transitioning from homelessness often have very little other than their clothes. Although we attempt to provide them with choices of basic items, we can only accept furniture that will fit in a small apartment and can be moved upstairs without an elevator. In order to treat our clients with dignity and respect, we cannot accept items that are stained, torn, damaged by pets, chipped, or broken. We do not have the resources to repair, paint, or refinish furniture. Disposing of damaged or unsuitable items comes at a cost to New Life that takes away from our ability to serve clients.
As a rule of thumb, if you would not give it to a family member or friend, it is not suitable for a client. We will inspect items before accepting and reserve the right to refuse anything not appropriate for our clients.
---
Furniture

Must be clean and free of damage and stains – no tears, patches, pet hair, stains, excessive scratches, and marks.

---

We can accept:

Twin, Full, and Queen Size Mattresses, Box Springs, and Metal "Harvard" Adjustable Bed Frames
Bureaus/Dressers
Couches & Sectionals with 2 or Fewer Sections
Ottomans
TV Stands
Upholstered Chairs, Recliners, and Rockers
Coffee and End/Side Tables
Kitchen/Dining Tables (maximum 64" long or 48" round)
Kitchen Counter Chairs
Kitchen/Dining and Desk Chairs
Bookcases (maximum 72" high)
Small Cabinets
Small Desks (maximum 42" across)

---

WE CANNOT ACCEPT:

King Size Mattresses, Box Springs, and Bed Frames
Bunk Beds, Loft Beds, Platform Beds, Motorized/Sleep Number Beds, Futons, and Air Mattresses
Sleeper and Recliner Sofas
Sectionals with 3+ Sections
Any Size Headboards, Footboards, and Wood Bed Frames
Vanities, Armoires, and Wardrobes
Cribs, Crib Mattresses, High Chairs, Children's Tables and Chairs
China Cabinets, Hutches, and Buffets
Entertainment Centers
Large Bookcases, Large Desks, Drafting Tables, File Cabinets, and Other Office Furniture
Metal and Wall-mounted Cabinets
Outdoor, Porch, or Sunroom Furniture

Kitchen Items

Must be clean and free of chips and breaks.

---

We can accept:

Dishes without Metal Trim
Drinking Glasses and Mugs (no plastic, metal, or logos)
Cutlery/Flatware and Kitchen Knives
Pots and Pans
Cooking and Baking Utensils and Tools (e.g. ladles, whisks, peelers, can openers, cutting boards, etc.)
Microwavable Dishes
Bakeware and Mixing Bowls (no plastic)
Small Kitchen Organization (e.g. silverware drawer organizers, canisters, glass food storage, etc.)

---

WE CANNOT ACCEPT:

Fine China
Sterling or Silver Plated Items
Glass Dishware
Plastic or Metal Drinkware and Dishware
Mugs and Drinking Glasses with Logos
Stemware, Wine Glasses, Liquor Glasses, and Beer Glasses
Wine Racks
Plastic Food Storage (e.g. Tupperware)
Serving Trays
Punch Bowls
Paper Towel Holders
Dish Drying Racks

Linens & Towels

Must be clean and free of stains, rips, and tears.

---

We can accept:

Twin, Full, and Queen Size Sheets, Pillowcases, Blankets, and Comforters
Bath Towels, Hand Towels, Face/Wash Cloths
Kitchen and Dish Towels
Shower Curtains and New Shower Curtain Liners
Placemats and Pot Holders

---

WE CANNOT ACCEPT:

King Size Sheets, Pillowcases, Blankets, and Comforters
Crib Bedding
Bed Pillows
Any Size Shams, Dust Ruffles, Mattress Toppers/Pads, and Duvet Covers
Electric Blankets
Beach Towels
Curtains
Tablecloths

Small Appliances & Electronics

Small Appliances & Electronics

Must be clean, working, and include all parts.

---

We can accept:

Countertop Microwaves
Mixers with Beaters
Slow Cookers with Lids
Indoor Electric Grills (e.g. George Foreman Grills)
Electric Kettles
Fans
Irons
Lamps (no halogen lamps)
Vacuum Cleaners
Blenders
Food Processors
Coffee Makers
Electric Frying Pans/Skillets
Toasters and Toaster Ovens
Small Alarm Clocks, Radio Clocks, and Wall Clocks

---

WE CANNOT ACCEPT:

Bread Machines
Ice Cream Makers
Pasta Machines
Deep Fryers
Popcorn Poppers
Fondue Pots
Warming Trays
Catering Equipment
Coffee Urns, Keurigs
Built-in Microwaves
Large Appliances (e.g. Cooktops, Ovens, Stoves, Dishwashers, Refrigerators, Freezers, Gas Dryers)
Dehumidifiers and Humidifiers
Space Heaters
Air Conditioners and Air Purifiers
Steam Mops
Sewing Machines
Lightbulbs
Personal Care Appliances
TVs, DVD/Blu-ray Players, and Other TV Devices
Speakers, Stereos, and Other Music Equipment
Computers, Laptops, Tablets, Printers, and Other Computer Devices

Miscellaneous

Must be clean and free of stains and damage.

---

We can accept:

Mirrors and Framed Wall Art
Rugs (bound, 6' wide or smaller, can be longer lengthwise)
Fabric and Plastic Storage Bins
Laundry Baskets and Hampers
Ironing Boards
Small Waste Baskets

---

WE CANNOT ACCEPT:

Vases, Candles, Candlesticks, and Other Home Décor
Heavy or Unframed Wall Art & Mirrors
Wall-mounted Shelves
Picture Frames
Baskets
Holiday Decor
Fireplace Tools
Brooms, Brushes, Dustpans, Mops, and Dusters
Rugs Larger than 8'x10', Remnants, and Rug Pads
Curtain Rods
Hangers
CD/Record/Tape Racks
Musical Instruments
Pet Supplies
Medical Equipment
Bicycles, Exercise, Sports, and Outdoor Equipment
Automobile Equipment
Suitcases
Strollers, Car Seats, and Other Baby/Children's Equipment
Toys
Building Materials, Lighting Fixtures, and Plumbing Fixtures
Food
Clothes