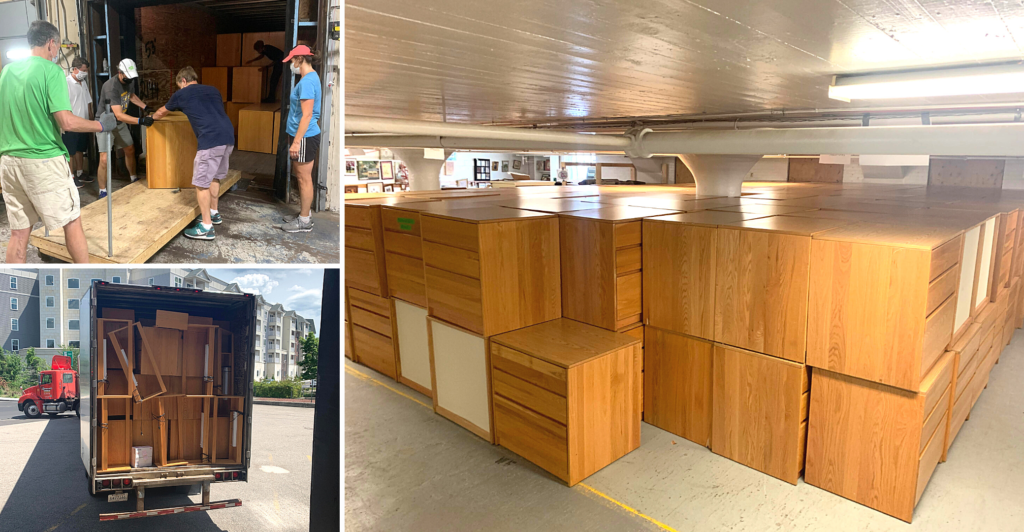 On July 27th, we received notice that IRN Surplus: The Reuse Network   of Concord, NH had furniture from University of Massachusetts Amherst for New Life. Two days later, a 53-foot tractor trailer filled to the brim of dormitory furniture backed into our loading dock ready to be unloaded. Thank you to Kristi Noone, Michael Noone, Steve and Sandy Harte, Bob Rich, Rick Hooker, Barry Mills, and Diana Mileszko  for stepping up to help out with less than a day's notice.
Over the course of four hours, the furniture was unloaded layer-by-layer. We'd like to extend a special thank you to Andy, the driver from Lamont Trucking of Haverhill, MA for going above and beyond his job duties by graciously helping unload. Despite the sweat, exhaustion, and a few pinched fingers, everyone remained in good spirits knowing the difference these dressers and desks could make for our clients. By 5 p.m., the trailer was finally empty and 207 dressers, 21 desks, and 19 desk shelf units had been unloaded.
Though it was hard work, this delivery led to the reuse of nearly 250 pieces of furniture and is enough inventory to give every household at least one dresser over the next three months.