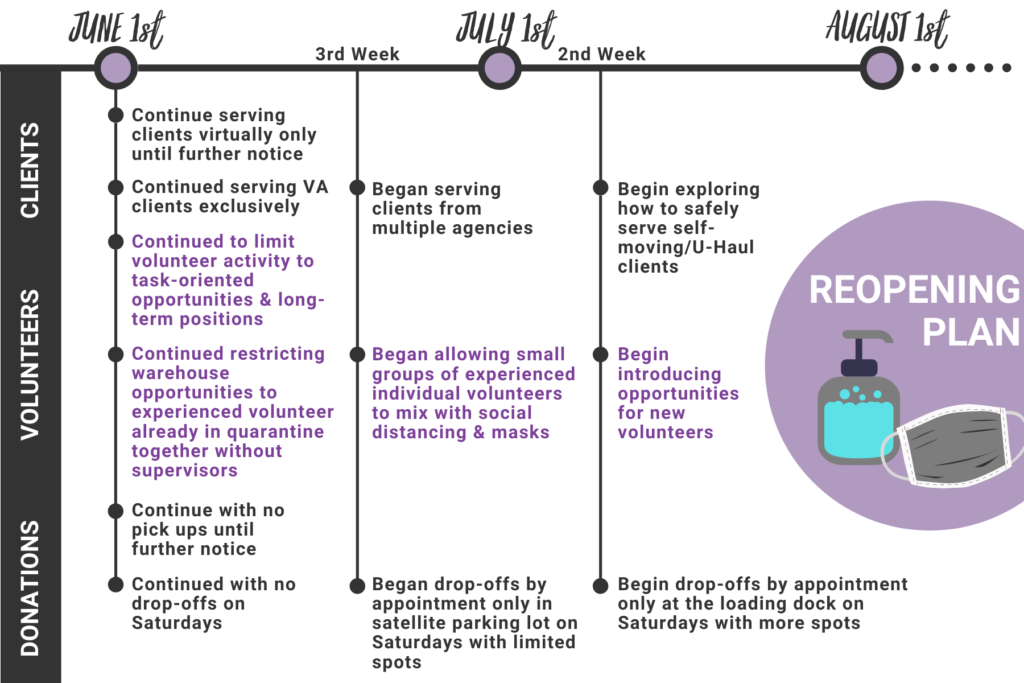 This is excerpted from our July newsletter with updates if any information has changed. Reopening information is subject to change at any time, so please check www.newlifefb.org for the most recent information.
A common theme throughout the COVID-19 pandemic has been uncertainty. We have received countless emails from volunteers about how the pandemic has disrupted their daily lives and the challenge that presents when trying to plan for next week, never mind next month. It's been no different for the team here at New Life as we continue to reopen. While the plan is subject to change at any time depending on the course of the virus, we want to share with you how far we have come in the last few months and what's next. While we encourage you to check out the timeline above, there are a few changes to note.
CLIENTS
The virtual furniture bank format will continue through August at a minimum. We are exploring the logistics of serving self-moving/U-Haul clients that would not involve contact between clients and volunteers, just as volunteers do not come in contact with the movers under our current operation. While we are not serving self-moving/U-Haul clients at this time, advocates are welcome to submit referrals for them so that they are on our list when we are ready.
VOLUNTEERS
Our Volunteer Coordinator, Amanda, will be present to supervise select shifts moving forward – therefore, opening up opportunities for first-time volunteers again. Experienced volunteers will also lead some shifts. Keep in mind that we are still asking volunteers to complete specific tasks in isolated shifts rather than resuming our usual operation. Examples include cleaning the warehouse, restocking inventory, or making dish packs. You will be required to wear a mask when with other volunteers, unless you've been quarantining together. Opportunities are gradually being added to our software, though are limited to a small number of volunteers each shift.
As usual, volunteers must be at least 14 years of age and anyone under 18 must be accompanied by a parent/guardian. Shifts led by a volunteer will be closed to minors for safety reasons. These shifts will be labeled "(must be 18+)".
Contact Amanda at amanda@newlifefb.org if you have any questions about volunteering.
DROP-OFFS
While we are not available for pick-ups for the foreseeable future, we are now accepting drop-offs on Saturdays by appointment only. On the last three Saturdays in June, we accepted drop-offs by appointment only in the satellite parking lot on the other side of the rail bridge. Items were loaded directly into our truck for a three-day quarantine and unloaded the following week for processing, inventory, and uploading to our virtual store. These dates were intentionally not widely publicized and limited to ten to twelve appointments each shift to prevent being overwhelmed with donations while we determined the safest and most organized means of interacting with volunteers and donors.
On July 11th, we began accepting donations at our loading dock to allow for more drop-off appointments. Items will be put directly into our basement for a three-day quarantine and brought upstairs for the remaining steps the following Thursday of each week. Enter on West Street to maintain one-way traffic. 
Please understand that we will turn away anyone that does not have an appointment for the sake of contact tracing. We are determining our drop-off plan month-by-month for everyone's safety, so we kindly request your patience if you do not get an appointment immediately. There will be more opportunities added, as we recognize everyone is eager to donate their spring cleaning items.