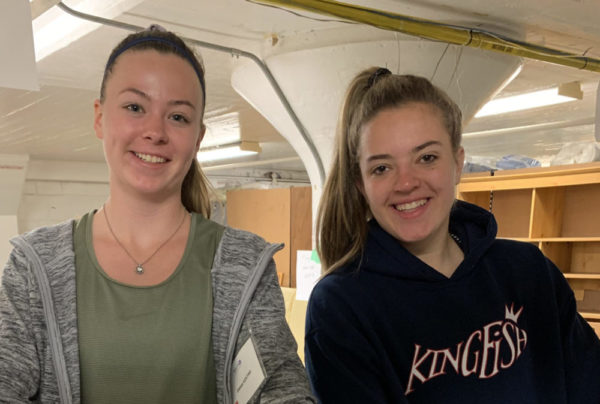 When Medfield High School seniors Emma Keating and Pari Ahmadi were tasked with selecting an organization for their senior project – a six-week program substituting classroom studies with a preapproved community project – they chose the place they spent many of their Saturdays already. As members of the inaugural group of the New Life Youth Leadership Program, the pair developed a project plan under the guidance of their co-leader Marianne Phillips. When COVID-19 disrupted both school and New Life operations, Emma and Pari's commitment to New Life did not waver as they embarked on an alternate plan to work remotely.
Emma and Pari completed extensive research on over 100 agencies from which we receive client referrals. The data collected is being utilized in our new software that will provide critical information and enhance reliability. Their research continued with developing a town-by-town snapshot of potential organizations for future outreach efforts. They even showed off their creative side in creating promotional videos for the virtual 5K.
The project culminated in the establishment of a club called Furniture Matters at Medfield High School. In partnership with New Life Furniture Club of MA, the club will provide a variety of opportunities for students to become community activists for New Life and promote furniture recycling. The club will promote a climate of respect, dignity, and appreciation of our community. Now graduates of Medfield High School, Emma and Pari have submitted the application, found an advisor, and recruited a group of underclassmen to rollout the club in the fall while they embark on the next phase of their lives.
We appreciate Emma and Pari's positivity, dependability, and resourcefulness in completing their senior project despite the challenges of the current times. Congratulations Emma and Pari on their hard work and dedication.