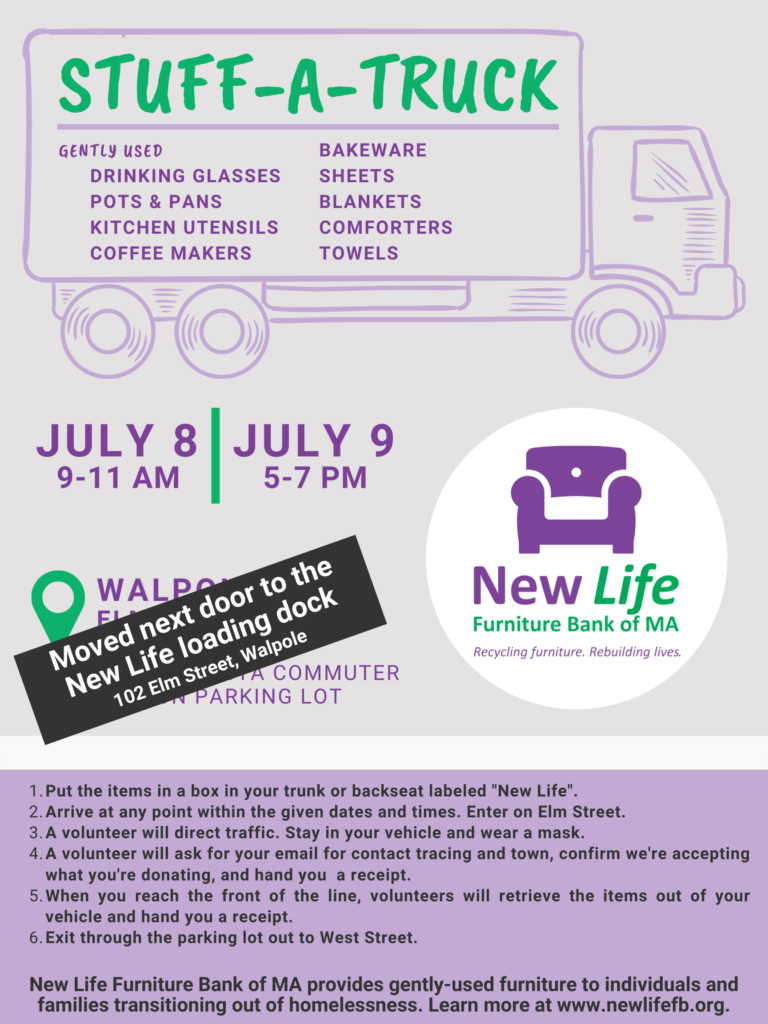 Due to the overwhelmingly positive response we've had to this event, we are moving the location next door to our loading dock at 102 Elm Street in Walpole. Enter on Elm Street and a volunteer will direct you where to go. All cars will exit out to West Street.
New Life Furniture Bank of MA is hosting a contactless Stuff-A-Truck on July 8th from 9 a.m. to 11 a.m. and July 9th from 5 p.m. to 7 p.m.
New Life provides furniture free of cost to individuals and families transitioning out of homelessness based on the vision of a future in which no one is forced to live, eat or sleep on the floor. During a time when many furniture banks had to temporarily close, New Life introduced a virtual furniture bank to continue serving clients amidst the COVID-19 pandemic. While New Life has been fortunate enough to receive massive furniture donations from businesses, their inventory of household goods is running low.
New Life will be accepting gently-used drinking glasses, dishes, pots and pans, kitchen utensils, coffee pots, bakeware, sheets, comforters, blankets, and towels. No other items will be accepted for the Stuff-A-Truck, but people can go to www.newlifefb.org to find out how to donate other items. Simply put the items in a box or closed bag clearly labeled "New Life" in the trunk or backseat of your vehicle. This is so we can easily stack items in the truck. There are no appointments, so stop by the Elm Street loading dock on either date at any point during the given times. Follow the arrows around the lot to the truck. Stay in your car and wear a mask. Volunteers also wearing masks will confirm the items meet our requirements, ask for your name and email for contact tracing, and take the items out of your vehicle for you.
New Life would like to extend their gratitude to the community for their continued support and wishes for everyone's health and safety during this challenging time.