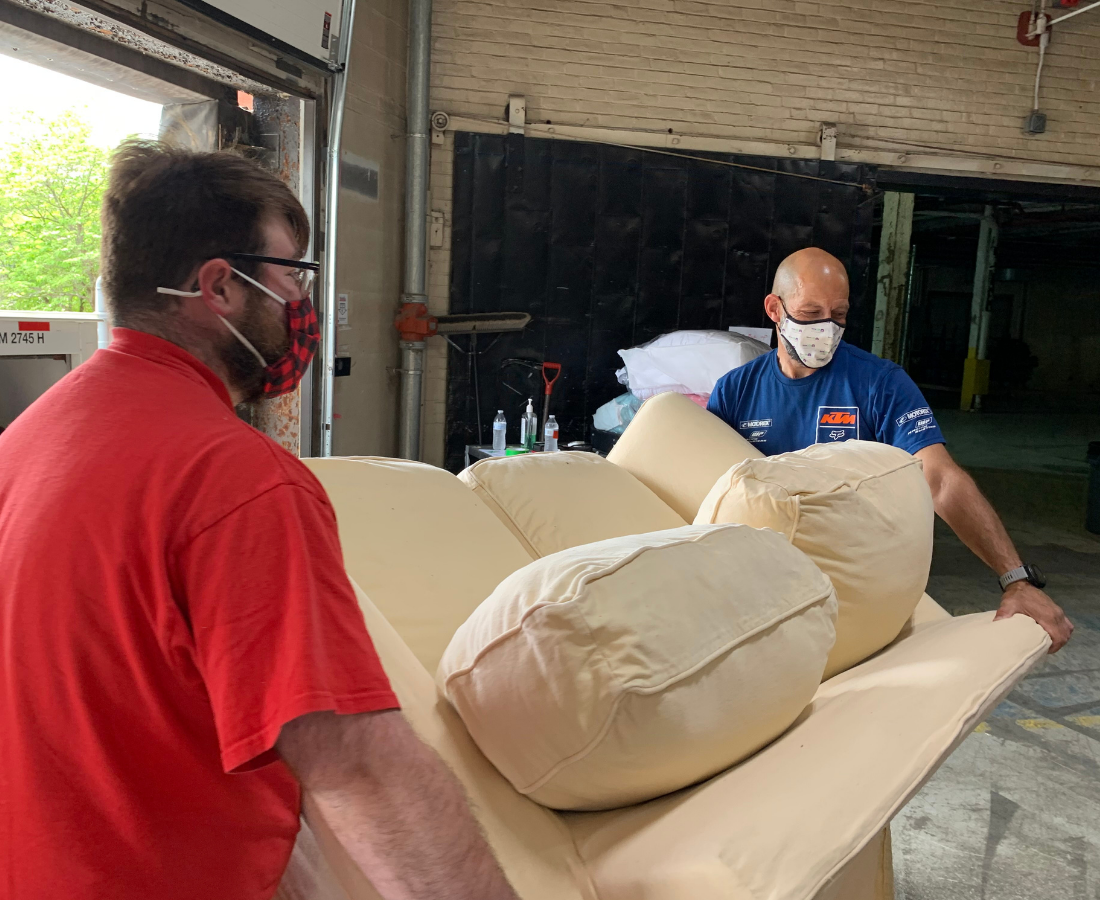 Employment
Though New Life is a volunteer-driven organization, we occasionally are looking to expand our team of employees.
New Life is an Equal Opportunity employer committed to a diverse and inclusive workforce. We believe that our team must reflect the diversity of the families we serve and that a diverse team where everyone feels comfortable being themselves will be a long-term advantage. We actively seek out diversity and do not discriminate on the basis of race, religion, color, national origin, gender identity, sexual orientation, age, marital status, veteran status, or disability.
---
Driver
Occasional (1-4 mornings/week) OR Full Time
Interested candidates should email Amanda Wolfe, Operations Manager, at amanda@newlifefb.org.
---
Summary
New Life Furniture Bank of MA provides gently-used furniture and household goods to people transitioning out of homelessness. Drivers are an essential part of growing our operation by bringing in greatly needed inventory. The position includes picking up donations from the community and delivering furnishings to clients.
Responsibilities
Pick up furniture and household good donations from community donors

Deliver furniture and household goods to client homes

Safely lift and move furniture from homes and businesses, in and out of our warehouse and trucks, and into client homes

Practice safe lifting techniques to protect yourself, others, and avoid damage to the items or surroundings

Comfortably drive a box truck and operate a lift gate

Collaborate well with others, including volunteers

Use our software to maintain accurate records

Accurately assess and collect pickup fees based on the number and location of items

Provide excellent customer service to furniture donors

Carry out various warehouse duties as needed

Problem solve and communicate effectively
Qualifications
Valid MA driver's license (CDL not required for the size of our trucks)

Ability to pass a Department of Transportation (DOT) physical

Ability to speak, read, and write in English

Ability to comfortably lift furniture weighing 50lbs or more

No driving violations from the past 3 years

Legally authorized to work in the United States
Please note that the responsibilities of this position is not a comprehensive list and may change at any time with or without notice to meet the organization's needs.
Tradução em português
Condutor
Os candidatos interessados ​​devem enviar um e-mail para Amanda Wolfe, Gerente de Operações, amanda@newlifefb.org.
Resumo
O Banco de Móveis Nova Vida de Ma está gentilmente fornecendo móveis usados e utensílios domésticos para os sem teto que estão ganhando um novo lar. Motoristas são partes essenciais para o crescimento da operação cuja função contribui muito para um bom relatório. A posição inclui pegar móveis que são doados pela comunidade e entregá-los aos clientes.
Responsabilidades
● Buscar móveis além de outros utensílios domésticos doados pela comunidade
● Entregar os móveis entre outros utensílios na casa dos clientes
● Mover com segurança móveis de residências e empresas, dentro e fora dos
nossos armazéns e caminhões, entregando - os na casa dos clientes
● Práticas de segurança para elevação dos móveis são necessários para sua
própria proteção, proteção dos outros, além de cuidados para não estragar as
coisas ao seu redor.
● Dirigir confortavelmente um caminhão baú com operação de elevação.
● Colaborar com os outros, incluindo os voluntários
● Usar o nosso software para registrar com precisão a elaboração do trabalho
● Ter cuidado ao examinar as taxas de coletas baseadas no número e localização
● Ser educado ao servir os clientes enquanto entrega os móveis doados
● Realizar várias tarefas de armazenamento conforme for necessário
● Resolver problemas com eficácia
Qualificações
● Carteira de MA válida, porém não é necessário (CDL para dirigir nossos
caminhões)
● Capacidade de passar pelo Departamento de Transporte (DOT) físico
● Capacidade de falar, ler e escrever em inglês
● Capacidade de levantar pesos com mais de 50 pounds
● Sem nenhuma violação de direção nos últimos 3 anos
● Legalmente autorizado para trabalhar nos Estados Unidos
Por favor saibam que as responsabilidades dessa posição contém uma lista um tanto
quanto incompreensível, mas ela pode ser alterada sem aviso prévio de acordo com
as necessidades da organização.