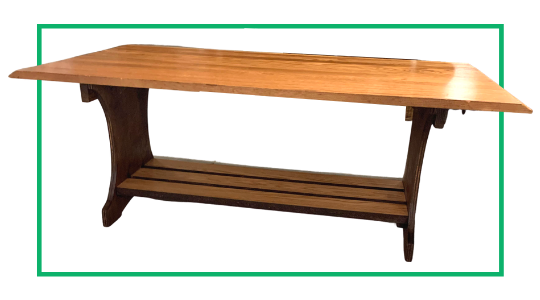 Have you ever seen the coffee tables at our warehouse that look like the one above? Each varies slightly, but there's the distinct sturdy top, hourglass legs, and practical storage shelf underneath perfectly sized for our clients' limited living space.
You will not find these in any store because they're built with table leaves from the various dining tables donated to New Life. Retired physician Ken Davison and his daughter Susie Stevens refurbish discarded furniture and donate them to local charities and those in need. When a coffee table was too big to give to their usual charities a couple years ago, they found New Life – where they were connected with a volunteer that had been converting table leaves into coffee tables and wanted to pass on the project.
After learning how the table leaves are converted, Ken was eager to try his hand in making some. Jump forward a couple years and the father-daughter pair have regularly made coffee tables as part of their furniture refurbishing efforts out of their Needham workshop. Ken builds while Susie works on the finish. To date, they've made well over 100 coffee tables but the effect they have on New Life is much greater. The many table leaves we receive would otherwise go to waste because our clients rarely live in spaces that can accommodate the extra length. Not only is converting them environmentally-friendly and in alignment with our mission, but a single dining table donation multiplies into many tables.
We applaud Ken and Susie for the dedication, not only to New Life, but also the surrounding community. They also donate furniture to Needham families through their community council, but say they primarily give to New Life because of how quickly the furniture can get into homes through us. It's not uncommon for them to include additional furniture pieces when they drop off the finished coffee tables, all beautifully refreshed by the talented duo. You can follow their extraordinary work on their Facebook page. Ken and Susie are a reminder of why our New Life community is so wonderful and we hope to incorporate more volunteers into their efforts down the road.